mK14 - MortenY
Springtime for music lovers EP
tracks:

1. Keep Waiting

2. Spring evening

Download mK14 - Morten Y- Springtime for musiclovers
Born and raised in Denmark, Scandinavia, creating his music from his home in Copenhagen.
His interest for electronic music started back in the late 80's. He began to make small tunes on his Commodore 64. MortenY has always been a creative soul, painting, drawing and creating music. Putting all his creative activities aside while working in the army in a period of 10 years, he started picking it up again right after he stopped his career as a soldier.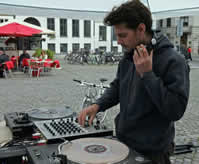 Now he is making a living of inspiring youngsters to paint, draw and produce music and make sure they will get the best start in life.
Visit MortenY at these sites:

www.myspace.com/netromwhy
www.myspace.com/morteny
www.soundcloud.com/morteny
Artist…..: Morten Y
Title……: Springtime for musicloversEP
Label……: artist of musickollektiv.org
Genre……: Minimal Techno
Released..: Jan-31-2010
Quality….: 320 kbps MP3

our

musickollektiv.org
the space is ours, help it blossom
http://www.musickollektiv.org/