mK25 N-D-E
tracks:

1. Frequencies.............................

2. Vandergraff..............................

3. Remember Me Ft Grant210FM.

Artist…..: NDE
Title……: mK25 NDE EP
Label……: artist of musickollektiv.org
Genre……: IDM
Released..: March-21-2010
Quality….: 320 kbps MP3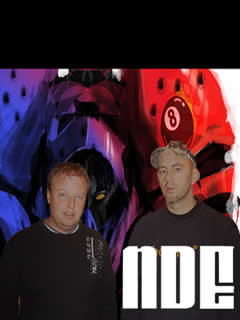 These feelings may include peacefulness, acceptance of death, emotional and physical comfort. Intense, pure bright light - Sometimes this intense light fills the room.
Out-of-body experiences (OBE),
The subject feels that he has left his body.
Entering into another realm or dimension, he may perceive this realm as Heaven or, as Hell...
FREELANCE MUSICIANS, DJS, PRODUCERS
(Cultural events organizers, sound research development)
Current music style:
Dubstep,Drum and Bass,Breaks..
Projects:
N-D-E Development, Elektek Recordings,Elektek TV,
Concrete Jungle,Sub-Tek Recordings
Tools:
Pro Tools, Ableton Live,Soundforge, Waves, Native Instruments, M-Audio , Technics 210's, Aria pro 2,
Releases:
ETK002 NDE. 3 Track EP Sweat Box. /Bad Habit. /Terminator.
ETK004 NDE. 3 Track EP Welcome to the Future. /Incredible Machine. /Shapeshifter.
ETK009 NDE. 3 Track EP Vandergraff /Frequencies /Spray Can Rap- Loc_e (NDE remix).
DDR027 Don Goliath Mega hit - The Remixes EP
STK-003. NDE 2 Track EP Stratergy Staying Alive (NDE remix) /Revolucion Dub.
MDR011: Various Artists / Gorilla Warfare EP
NDE – White Boyz Don't Skank
MDR019: Various Artists / Inna Jungle EP
NDE – Another Sound Boy
Links...
Website http://www.elektekrecordings.com/
Myspace http://www.myspace.com/n-d-e
http://www.myspace.com/subtekrecords
ReverbNation
http://www.reverbnation.com/nde
Brought together by a passion for music, different cultures, same vision. influenced by the everyday.
driven by anger, frustration ,laughter, love, the unjust, opression, fear, corruption. the rot which spreads fast amongst us.
Disect, Inspect, Regenerate.
VIVA LA REVOLUCION !

our

musickollektiv.org
the space is ours, help it blossom
http://www.musickollektiv.org/