mK24 - Bela Emerson - No-Bees Realm

remixed by Same Actor, Si-Cut DB & Expo67

tracks:

1. MeetingKate (Expo67Mix)..

2. Devine (Same Actor Remix)

3. Bela Emerson & si-cut.db - oxylynch nettle soup

Download mK24 - Bela Emerson - No-Bees Realm

Artist…..: Bela Emerson
Title……: No-Bees Realm
Label……: artist of musickollektiv.org
Genre……: Electronic\ Cello
Released..: March-26-2010
Quality….: 320 kbps MP3




Bela Emerson creates music using electric cello & non-laptop electronics. since she began using this approach in 2003, other artists have remixed her. a selection of these remixes can be heard here.
Excellent: layers of gorgeous, mesmerising, rumbling hooks
Mark Russell, Mixing It, BBC Radio 3
Bela Emerson is a pioneering electric cellist who performs passionate, evocative and spontaneously-composed solo pieces using live processing. Her music harnesses many different genres whilst creating noiseworlds which are all her own. She builds layers of rhythm and sound from every part of her instrument: sounds are looped, take on lives of their own, bounce off each other...the effect, as anyone who's heard her will testify, is mesmeric.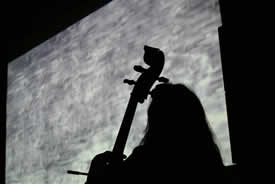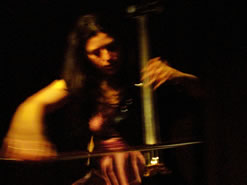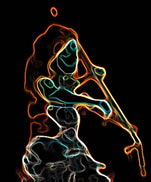 Bela is a prolific and well-travelled performer who tours extensively as a headline act in the UK, Europe, and North America; she's also recently thrilled crowds at Supersonic, Glastonbury, Bestival, Faster Than Sound and The Big Chill, as well as at many worldwide Ladyfests. She has been broadcast extensively on BBC Radio 3's Late Junction & Mixing It, Resonance FM (including live sessions), many European national terrestrial radio stations, and countless times on the web.
In addition to her solo work, Bela has collaborated with innumerable other musicians, such as Tim Exile, The Damned, British Sea Power, & Lianne Hall (including four John Peel sessions for Radio 1), and with Stomp's Lost & Found Orchestra at Sydney Opera House & the Royal Festival Hall. She plays for dance, circus, and films live & recorded – recently for the award-winning Tereza Buskova, SchMovies & with artist Marco Crivello - and in collaboration with Philippe Petit & Randall Frazier she featured on The Wire's front cover giveaway CD in March this year.
Other solo releases: Hespera (BiP_HOp, Bleep38), CD, 2008 Laurasia (Drama Queen, DQ02), CD, 2007 Scythe (The Slightly Off-Kilter Label, SOK009), 7" vinyl, 2005 Cables (Quiet Records, Quiet 012), CD, 2004 Kissing Nettles (Drama Queen, DQ01), CD, 2003
If anyone really does live by those Things To Do Before You Die lists, slot 'see Bela Emerson live' somewhere into the top 50
Julian Owen, Venue magazine
Man, I bet she could open a jar of pickles just by looking at it. Remarkable sonic textures rub up against each other to the extent that the instrument's true voice is unleashed - she makes her instrument speak in tongues
Ed Pinsent, The Sound Projector
www.belaemerson.com & www.myspace.com/belaemerson

Artists who have remixed Bela's music:


www.myspace.com/sameactor www.hotroddy.com www.mysapce.com/willsjohn www.douglasbenford.co.uk www.myspace.com/sicutdb

Бела Эмерсон - наватор в области игры на электронной виалончели, которая исполняет страстную,запоминающуюся и спонтанно созданную музыку.Она использует разные жанры музыки и создает целые миры своих собственных звуков. Она выстривает пласты ритмов и звуков с помощью своего инструмента, таким образом, кладывается ощущение, что звуки живут своей собственной жизнью,отталкиваясь друг от друга, и каждый, кто слышал ее музыку,согласится с ее гипнотическим эффектом.
Бела является плодовитым исполнителем, которая много выступает в качестве хедлайнера в Британии, Европе и Северной Америке. Она также недавно запомнилась своей волнующей музыкой на фестивалях Supersonic, Glastonbury, Bestival, Faster Than Sound и The Big Chill, и многих международных женских фестивалях. Ее музыку можно услышать на радио BBC 3 (Junction and Mixing It) ,Резонанс FM (включая живые выступления), на многих европейских радиостанциях и бесконечных веб -сайтах.

our

musickollektiv.org
the space is ours, help it blossom
http://www.musickollektiv.org/